This light weight, bench top unit can be conveniently placed in the BOF lab on a table or bench. Reheating of the steel sample is simple and fast. Typically, the operator will drop the sample thru the "key slot", press the power button and wait several seconds. He can then remove the sample and place it in the punch press. The ReHeater is especially useful for hardened steel samples that otherwise cannot be punched cold.
This bench top unit allows rapid (5-10 sec) reheating of samples from the Basic Oxygen Furnace in large steel mills. Once the part is reheated, small slugs can be punched out of the sample and analyzed in a spectrometry meter for alloy content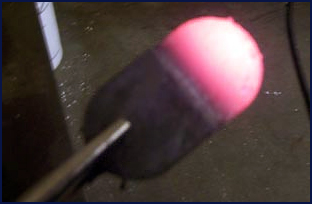 Shown is the sample after heating several seconds.
Our Sample Reheater uses our MOSFET Induction Heating Generator