Reconditioned Induction Heaters
3.0-7.5 kW
Each system has been fully reconditioned and upgraded with MSI Automation's latest fiber optic logic controls and solid state power electronics. Remote heat station is included.
Induction heating system by MSI Automation shows 5 kw unit operating a mere 15 kHz induction brazing a carbide insert into heavy 25mm square steel die holder.
Features:
Hoffman Steel cabinet with baked-on enamel finish
Nema 1 Enclosure with Allen Bradley electrical hardware
Full size digital timer (0-99 sec.)
Electrical bar graph displaying amerage and frequency
Power regulations knob (0-100%)
Foot Switch
Remote heat station and heating coil designed to customer specifications.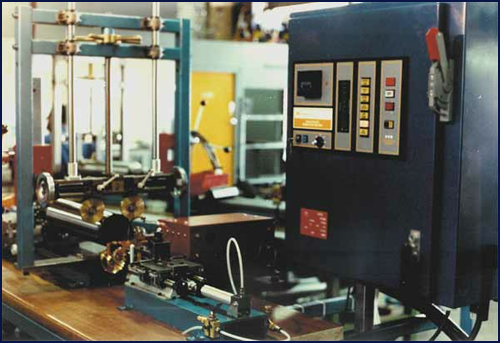 5 KW Induction Generator and Remote Heat Station
Shown in a European Factory. The system is used for brazing diamond segments onto core drills.
MSI Automation | Designed and Manufactured in the USA