MAGNETIC NANOPARTICLE HYPERTHERMIA INSTRUMENT
Magnetic Hyperthermia:
(1)Targeting
(2)Drug Release
(3)Drug Penetration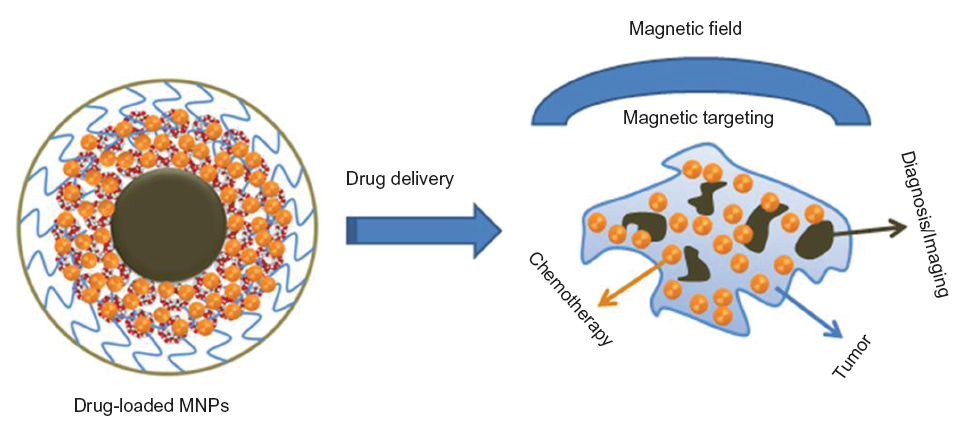 MNP-CUR Exhibits Potent Anticancer and Imaging Characteristics: A composite MNP (Magnetic Nanoparticle) formulation was composed of iron oxide nanoparticle core coated with polymer and loaded with CUR (curcumin anticancer molecule). Targeted heating of the MNP-CUR combination exhibited improved penetration into cancer cells, increased (cancer cell) loss of mitochondrial membrane potential, and produced higher ROS, suggesting it is extremely valuable in anticancer therapeutics. Additionally, iron oxide MNP enhanced MRI properties (compared to conventional MNP's) demonstrate good imaging agent characteristics (to assist in targeting and remote activation of the MNP-CUR). S. Chauhan, Curcumin-Loaded Magnetic Nanoparticles for Breast Cancer Therapeutics and Imaging Applications, Int'l Journal of Nanomedicine, 2012, pp. 1761-73
Nanoparticle Heating
Magnetic Hyperthermia
Neurological/Cancer Research
Features:
A. Heating Power: 5.0-12.0 KW /150-450 kHz
B. Magnetic Power Intensity: (350-1400 Gauss / High SAR values)
C. Round Heating Coils: 40- 130 mm
D. Hand-Portable Planar Magnetic Amplifier: 35-55 mm tissue depth penetration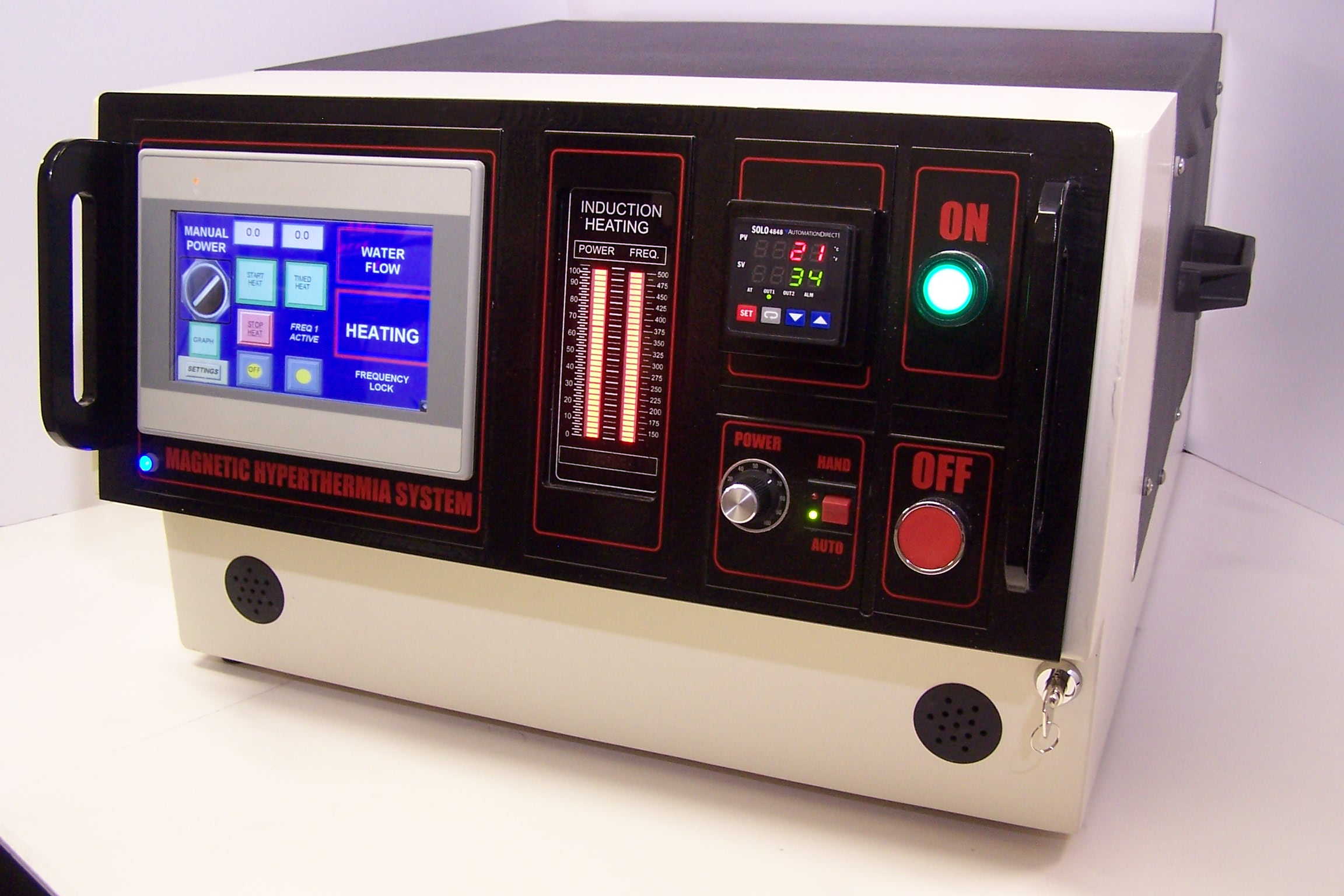 TECHNOLOGY REPORT: Issues that currently limit cancer treatment: (1) The inability of cytotoxic drugs to easily penetrate tumor tissue rich with cancer cells. (2) The surviving cancer cell's cumulative resistance to further toxic drug treatment. (3) The damaging effects of excessive drug treatment on the patient's health (4) The absence of a method to spur the body's own immune system to recognize and attack cancer cells. (5) The lack of a system to detect, target and remotely trigger the release of the cancer drug.
Magnetic Heating of temperature sensitive magnetic nanocarriers allows targeted and triggered release of the cancer drug. (P. Pradhan) Further, low temperature heating can spur anti-tumor immunity while improving microvascular permeability for the drug to more easily penetrate the cancer tissue. (M. Dewhirst) Beyond the obvious benefits of magnetic hyperthermia to chemo and radiation therapy, recent data has shown that precise magnetic / thermal activation of unresponsive or damaged brain circuits can reduce the need for brain surgery or implantation of artificial devices. (A. Pralle)


REMOTE OPERATION WITH ETHERNET CONNECTION: All functions can be performed remotely. Power, Frequency and Magnetic Field Strength can be controlled, recorded and displayed remotely on the researcher's laptop computer.

HEATING COIL SELECTION: (Size range: 40-130 mm) Larger coil diameters must operate at higher voltage to produce sufficient magnetic heating. A Voltage Tap Switch at the rear of the Heat Station is provided for that purpose.

Neoptix Fiber Optic Temperature Sensor is included with each system. Up to 4 sensors can be utilized and charted independently.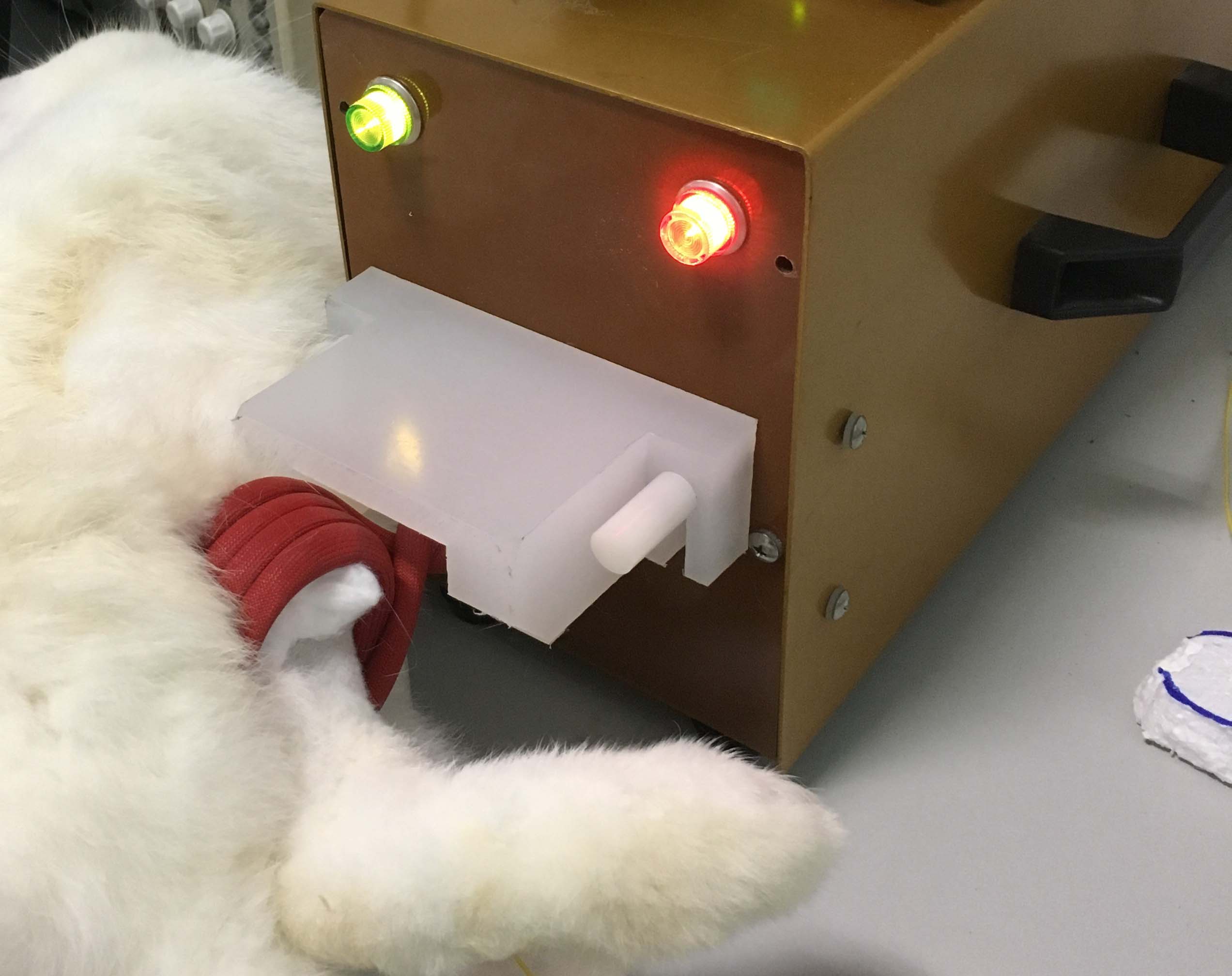 RESULTS: The temperature rise of the nanoparticle formula in the rabbit's bone marrow is measured. Heating is rapid to 45 C in 60 sec's. (Beijing university)
Temperature profile in rising trajectory as soon as magnetic heating applied.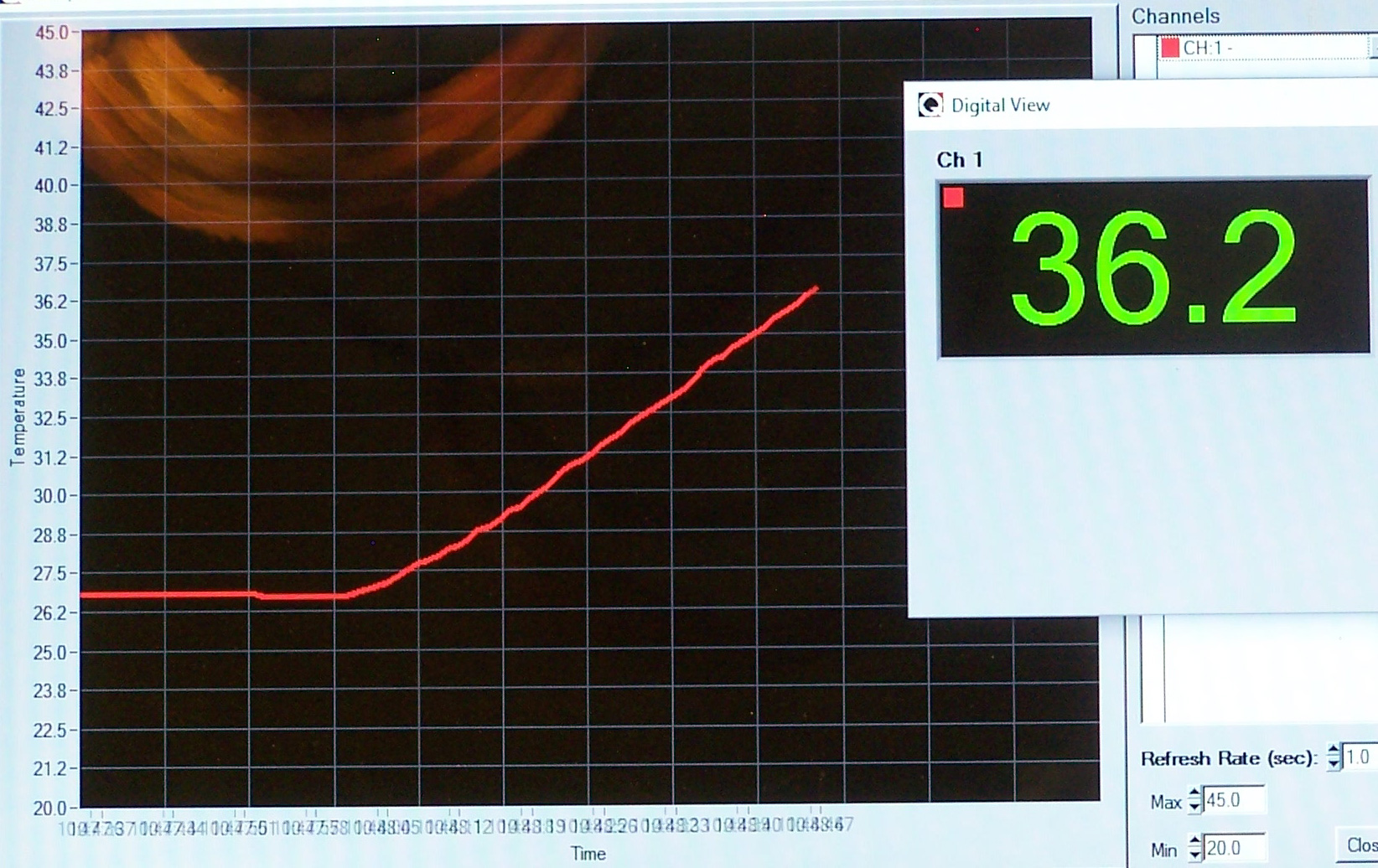 LARGE DIAMETER HEATING COIL: As research continues, the need for larger heating coil diameters are necessary. Special performance of this system allow high magnetic field strength up to 130 mm. (Nanoprobes, New York)
------ New for 2018 -----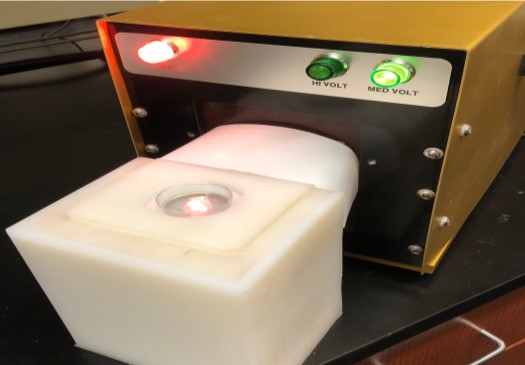 The Hi-Flux Module allows the use of a microscope to observe from above the heating of the nanoparticles in real time when placed in a Petri Dish.

Data developed with the Hi-Flux Module parallels the performance conditions generated by the Hand Portable Planar Magnetic Amplifier. Tissue heating and penetration depth of imbedded nanoparticles can be measured by means of the supplied Neoptix fiber optic sensor. Heating at different elevations above the amplifier correlate to the thermal penetration depth into human or animal tissue. Sub-surface cancers; as breast, infant brain and multiple myeloma; can by this method be treated.

No longer will magnetic hyperthermia be limited to only round heating coils and the impractical idea that human body parts will fit inside such a restricted envelope.
----Noted Benefits of Magnetic Nanoparticle Hyperthermia in Treating Cancer--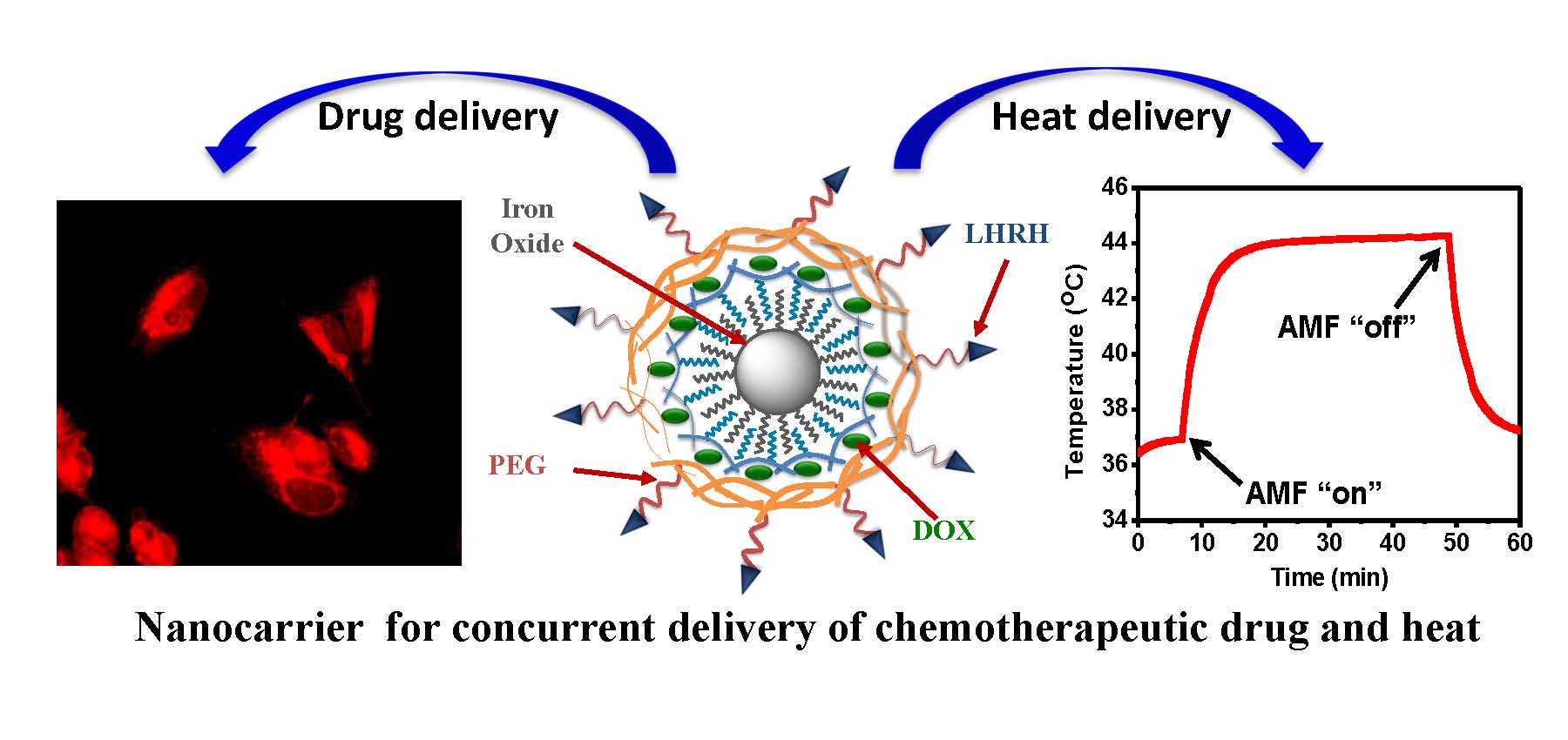 NANOCARRIER DRUG DELIVERY:
By using operator-controlled magnetic energy to remote-trigger the release of the nanocarrier drug at the tumor site, non-specific (healthy) tissue is protected from the toxic effects of chemo. Further, the heating of the nanoparticles and surrounding tumor tissue improves the permeability of the tumor tissue matrix, allowing the drug to more easily penetrate the tumor tissue. The net result is that the chemo therapeutic efficacy is improved, less cancer drug is required and the tumor's resistance to the drug is suppressed.
Taratola, O: Multifunctional Nanomedicine Platform for Concurrent Delivery of Chemo and Mild Hyperthermia for Ovarian Cancer Cells, International Journal of Pharmaceutics, 2013, pp. 1-40

Comparative DOX Delivery Paradigms for Heat Responsive Liposomes

Summary: The key difference between the tumor models is vascular permeability. Temperature triggered drug release and simultaneous hyperthermia heating increased microvascular permeability and drug infusion by 9-fold. M. Dewhirst, NanoScale Drug Delivery and Hyperthermia, 2011. pp. 38-60
----General Specifications----
SPECIFICATIONS:
POWER LEVELS AVAILABLE: 5.0, 7.0, 10.0 and 12.0 KW
AC VOLTAGE: SINGLE PHASE 208-240 VAC 50/60 Hz / THREE PHASE : 240-480 VAC
AMPERAGE: 15-30 AMPS
AVAILABLE FREQUENCY RANGE: 100-500 KHZ
WATER COOLING: 12 LITERS/MINUTE @ 2 BAR (30 PSI)
WATER QUALITY: CITY WATER IS ACCEPTABLE
WATER TEMPERATURE: 20-25 C (65-75 F)
DIMENSIONS
POWER SUPPLY: 24" (60 cm) Length x 14" (35 cm) High x 20" (50m) Wide
Weight: 120 LBS. (60 kilos)
HEAT STATION: 10" (25 cm) Wide x 12" ((30 cm) High x 18" (45 cm) Long
Weight: 40 lbs. (20 kilos)
CABLE BETWEEN POWER SUPPLY AND HEAT STATION: 1-2 METERS
HEATING COIL DIAMETER: 40-80 mm (STANDARD) / 90-130 mm (OPTIONAL)
OPERATOR CONTROLS
POWER: 0-100% MANUAL POWER KNOB
DIGITAL TEMPERATURE CONTROLLER
COLOR TOUCH SCREEN DISPLAYING SYSTEM FUNCTIONS AND ALARMS
DIGITAL TIMER: BUILT INTO THE TOUCH SCREEN: (0-999 SEC'S)
ELECTRONIC BAR GRAPH DISPLAYING FREQUENCY AND RELATIVE POWER
USER INTERFACE / COMMUNICATION:
TOUCH SCREEN CONNECTION: ETHERNET (AVAILABLE)
SYSTEM REMOTE CONTROL SOFTWARE: EASY ACCESS 2.0 (INCLUDED)
TEMPERATURE MEASUREMENT SOFTWARE: NEOPTIX OPTILINK (INCLUDED)

Coming in 2018 for Infant Glioma and Bone Cancers (NIH Grant:
PA-17-302) YouTubeVideo: https://youtu.be/cdLOQ2ZytUU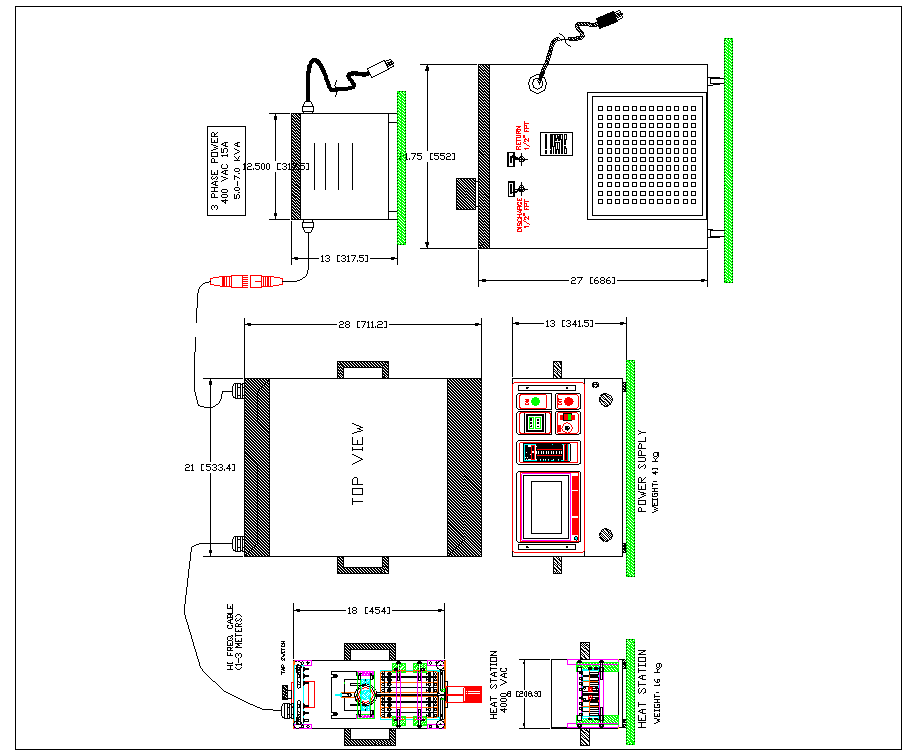 MSI AUTOMATION, INC.
4065 N. Woodlawn #4 Wichita, Kansas 67220 USA
Tel: 316 681 3566 / Fax: 316 681 1433
Contact: Dave Brinckerhoff
Email: dave@msiautomation.com