Copper Annealing Systems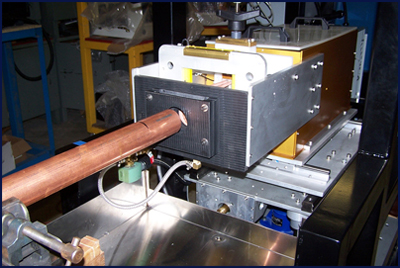 This is a fully automatic system that anneals the 4? length of each copper tube. Tube size diameters range from 1? to 4?. Process is designed for full automatic operation as the tubes are fed into the induction annealing system, quenched and then retracted away.
The system utilizes a MSI designed Induction Heating System and sliding heating coil method that is microprocessor controlled. Heating begins at the end of the copper tube and progresses over the required distance. At the conclusion of the heat cycle, a quench bath is activated-- to prevent the annealed section from migrating further.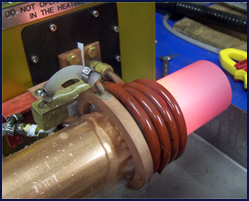 Photo shows copper tube annealing at the end of the heating stroke. Quench ring?s water spray is activated to prevent heat zone from moving beyond the required area.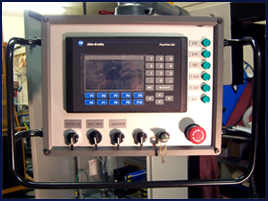 All MSI Automation systems that incorporate PLC control are furnished with Allen Bradley Micrologic 1000 controllers and Allen Bradley (HMI) operator interface panels. The unit is supported by an overhead swivel support arm for ease of use.
MSI Automation | Designed and Manufactured in the USA