PORTABLE SMALL INDUCTION HEATER
(Brazing and Heat Treating: 5-15 kW)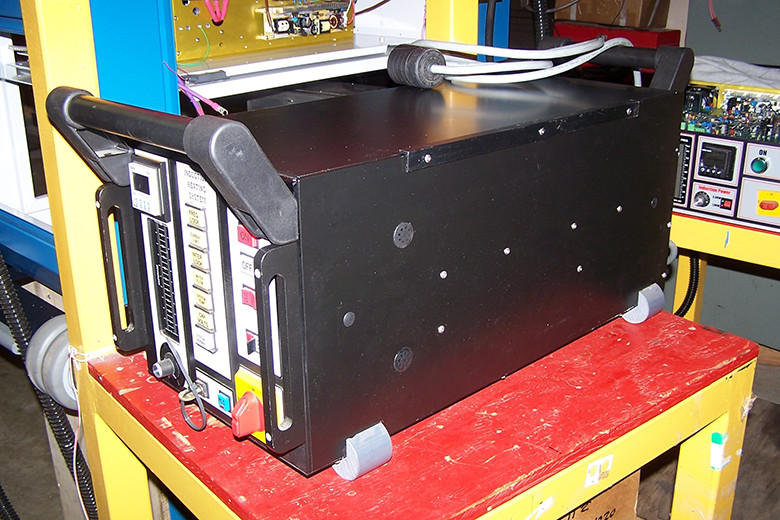 DESCRIPTION: The state of the art system from MSI Automation is suitable for industrial and naval applications where portability is essential. The power supply shown above is available for power output levels of 5-15 kW. The choice of the power level depends upon the type of induction brazing that is required. A Hand Held Heat Station is included with the system. The Power cable between the Power Supply and the Heat Station can be up to 10 meters.
OPERATOR CONTROL: THE POWER UNIT HAS STANDARD FEATURES AS ON/OFF SWITCHES, KEY LOCK AND (0-100%) POWER REGULATION KNOB ON THE FRONT PANEL. SEVEN STATUS LAMPS ON THE FRONT PANEL INDICATE OPERATING CONDITIONS.
DIMENSIONS: Length: 24", Height: 12", Width: 12", Weight: 70 Lbs.
Portability: Lift handles at both ends. Power input and output cables at the rear of the unit. Water connections at the rear of the unit.
Requirements: Water cooling: 2 GPM @ 30 psi / Electric Power: 110-240 VAC Single Phase / 240/480 VAC 3-Phase
HEAT STATION OPTIONS
A VARIETY OF HEAT STATIONS ARE AVAILABLE. THE HEAT STATIONS ARE HAND UNITS WITH THEIR OWN POWER SWITCH. HEATING COILS ARE SPECIALLY COATED WITH SAFETY SHELD OF CERAMIC. A FERRITE INTENSIFIER IS USED IN SOME CASES TO CONCENTRATE THE HEATING.
| | |
| --- | --- |
| SURFACE HEATING COIL | SURFACE HEATING ½" THICK STEEL |
| HEATING CARBIDE INSERT | HAND UNIT WITH 10 METER CABLE |
MSI Automation | Designed and Manufactured in the USA