MAGNETIC HYPERTHERMIA SYSTEM
Using an innovative magnetic hyperthermia system, nanoparticle heating advances cancer research and treatment.
Treating cancer, one nanoparticle at a time. When magnetic nanoparticles are inserted into tumors, they absorb energy from alternating magnetic fields. The tumor becomes inactive above 40-50C and tumor ablation occurs.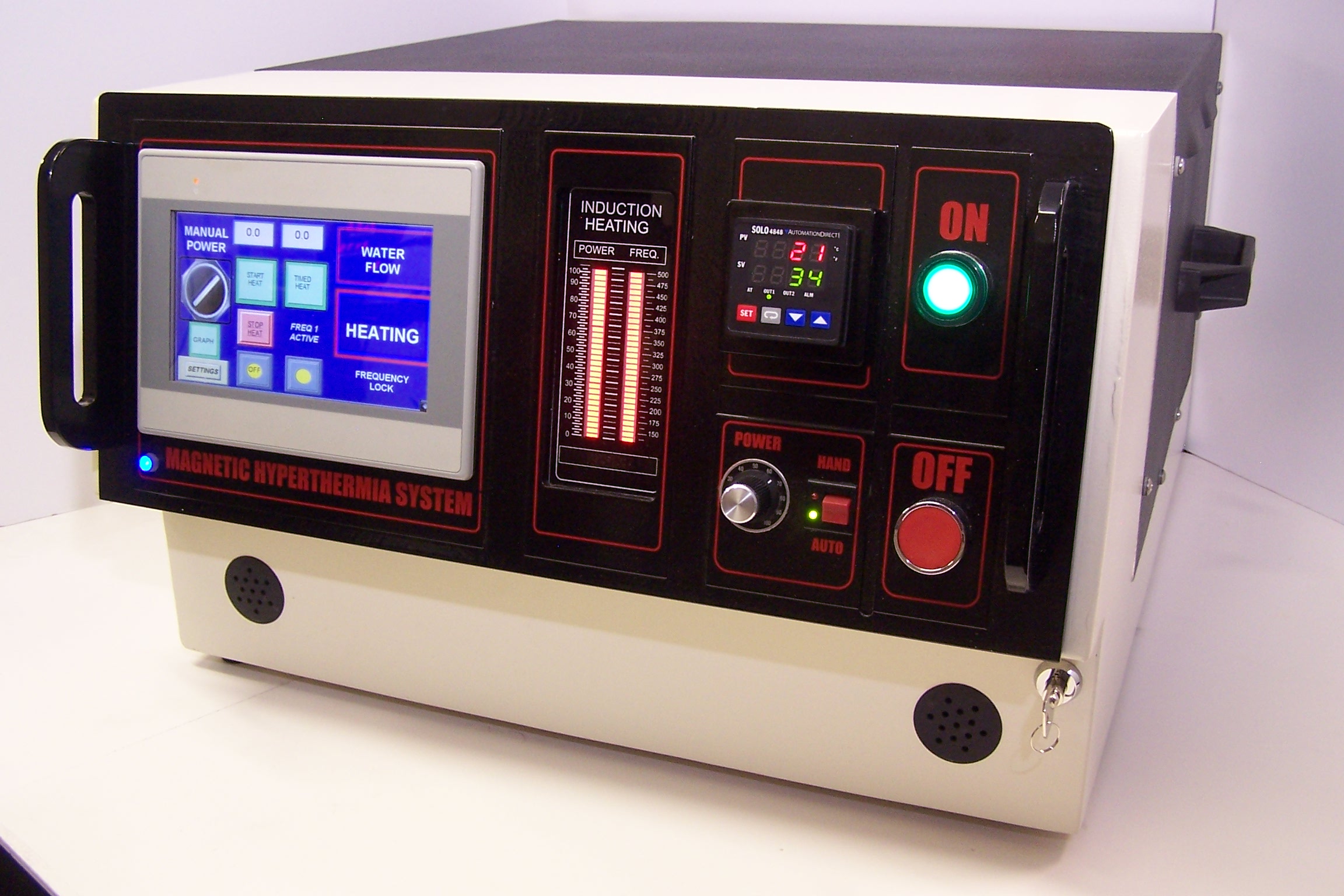 5.0-12.0 KW / 150-450 kHz SYSTEM
SUMMARY: (1) Targeted nanoparticle heating has shown promise as a means to cause tumor ablation, improve immune response and initiate cancer cell death @ 42-55 C. (2) Targeted magnetic heating is used to release a nano carrier cancer drug in proximity to the tumor. The drug is released by the magnetic heating effect and the mild heating further limits the tumor's ability to grow
Induction Heating System Features:
Neoptix Fiber Optic Temperature Sensor System
Magnetic Power Intensity: Up to 50 kAmp/Meter
Heating Coil Sizes: 40-120 mm
Digital Cycle Timer and Temperature Controller
Ethernet Connection downloads Data to your Computer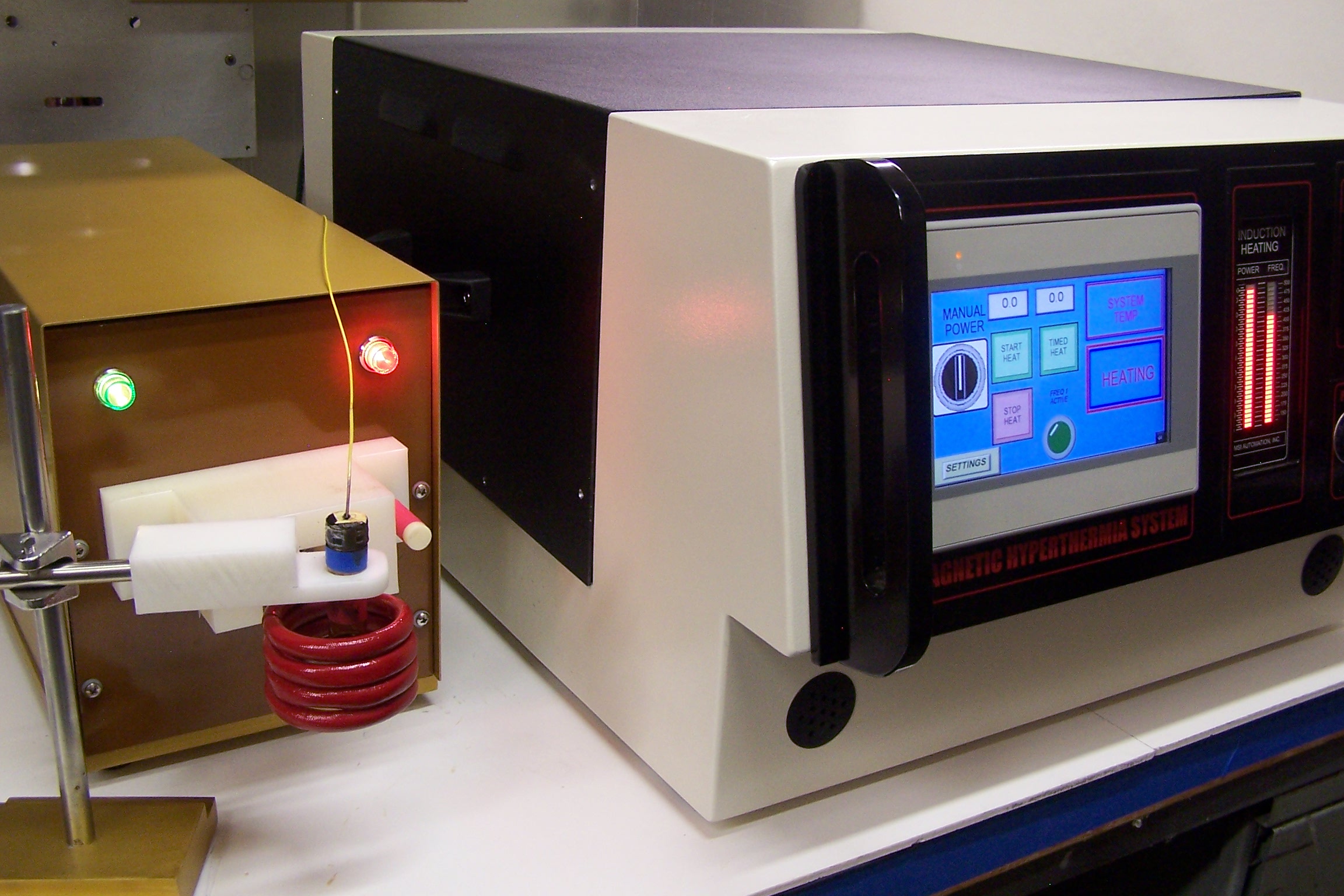 Above: Photo shows test tube with actual nanoparticles being heated. (Stand and tube holder included.)
Below: Photo shows software display of the temperature profile during heating.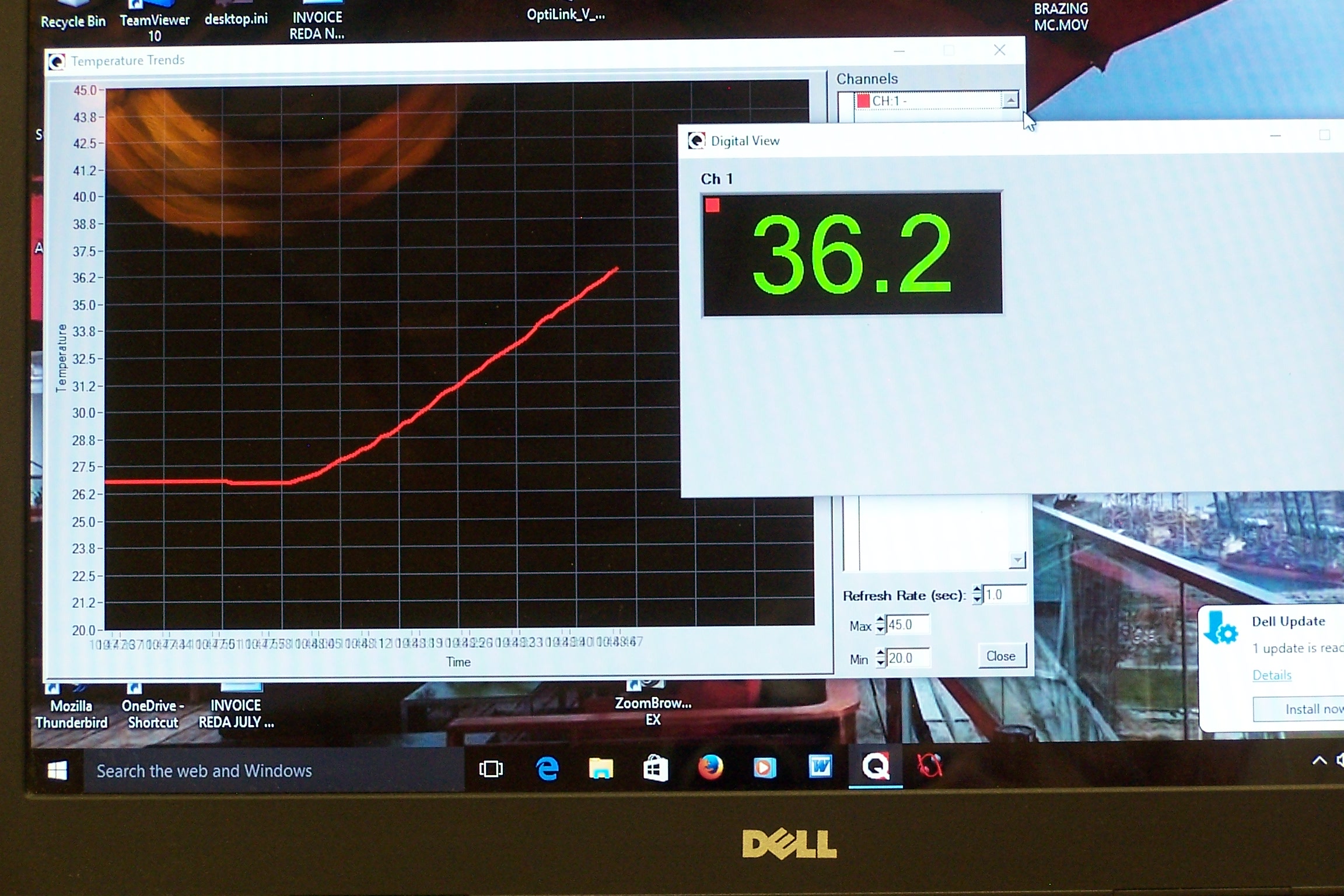 Up to 4 temperatures probes can be used simultaneously.
Video: https://youtu.be/awQdqhPweXA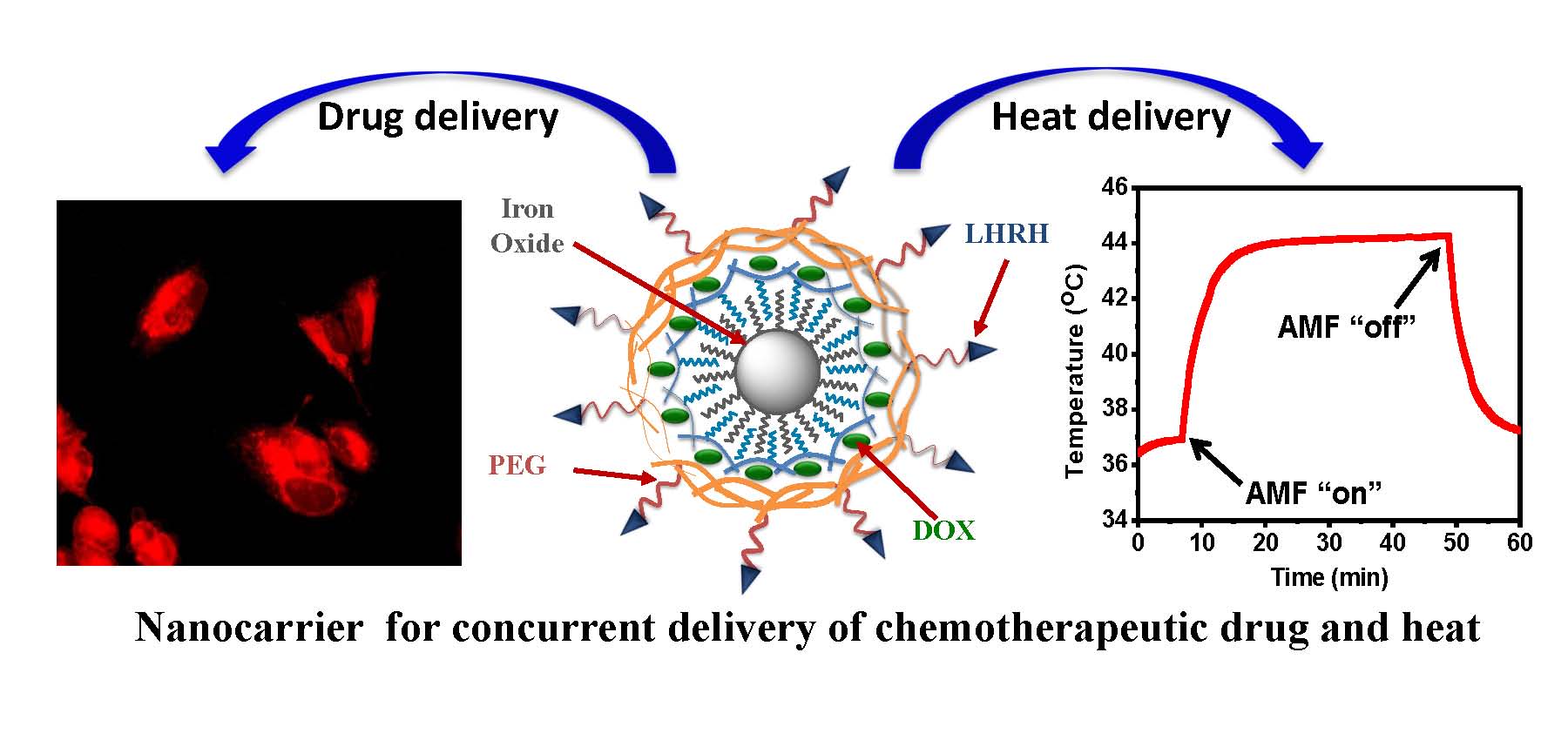 BACKGROUND ON CANCER TREATMENT: Surgery and Radiation are the 2 most common treatments for cancer. Surgery cannot typically remove all the cancer tissue, especially small metastatic growths. Radiation shrinks cancer tissue. This kills some of the tumor cells. However, the radiation dose is limited by the risk of damaging surrounding tissue. Chemotherapy and other drug treatments are temporarily effective but only until the drug's effectiveness is reduced by the tumor's cumulative resistance to the drug and the toxicity of the drug to the healthy cells.
Magnetic Hyperthermia is a relatively new concept and potential cancer treatment. There are two treatment methods being tested. In Vivo injection of nanoparticles into a tumor allows magnetic heating (AMF) to 42-55C of the tumor cells without effecting surrounding tissue. Another method (above) is to use a nano carrier drug (DOX) to target the tumor. The magnetic heating is then used to heat and release the cancer drug in the proximity to the tumor. Mild heating of the tumor and the introduction of the cancer drug can synergistically reduce the cancer tissue's resistance to the drug.
The Magnetic Hyperthermia Instrument has attracted worldwide interest and is primarily used in university and pharmaceutical research laboratories. Animal testing has so far produced mostly successful results. Additional research into nano particle and drug chemistry is ongoing. Configuration of the magnetic hyperthermia instrument to treat various cancers is also important. Cancer can take many forms and is located on the skin surface and deep inside the body. This requires specific equipment for each type of magnetic hyperthermia treatment. MSI Automation is a leader in custom machine design and it works with its partners to develop the best innovative solutions.
SPECIFICATIONS:

POWER LEVELS AVAILABLE: 5.0 - 12 KW
LINE VOLTAGE: 208-240 VAC 3 PHASE 50/60 Hz (Higher Voltage requires step-down auto transformer)
AMPERAGE: 20-30 AMPS
AVAILABLE FREQUENCY RANGE: 150-450 KHZ
WATER COOLING: 12 LITERS/MINUTE @ 2 BAR (30 PSI)
WATER QUALITY: CITY WATER IS ACCEPTABLE
DIMENSIONS:

POWER SUPPLY: 20" (500 mm) Wide x 14" (350 mm) High x 24" (600 mm) deep
Weight: 120 LBS. (60 kilos)
HEAT STATION: 10" (250 mm) Wide x 12" ((300 mm) High x 18" (450 mm) Long
Weight: 40 lbs. (20 kilos)
CABLE BETWEEN POWER SUPPLY AND HEAT STATION: 1-2 METERS
OPERATOR CONTROLS:

POWER: 0-100% MANUAL POWER KNOB
ON/OFF PUSH BUTTONS
DIGITAL TEMPERATURE CONTROLLER
COLOR TOUCH SCREEN DISPLAYING SYSTEM FUNCTIONS AND ALARMS
DIGITAL TIMER: BUILT INTO THE TOUCH SCREEN: (0-999 SEC'S)
ELECTRONIC BAR GRAPH DISPLAYING FREQUENCY AND RELATIVE POWER
USER INTERFACE / COMMUNICATION:

CONNECTION: ETHERNET
SOFTWARE: EASY ACCESS 2.0 (INCLUDED)
TEMPERATURE MEASUREMENT: OPTILINK (INCLUDED)
DATA: TEMPERATURE, FREQUENCY, POWER AND FIELD STRENGTH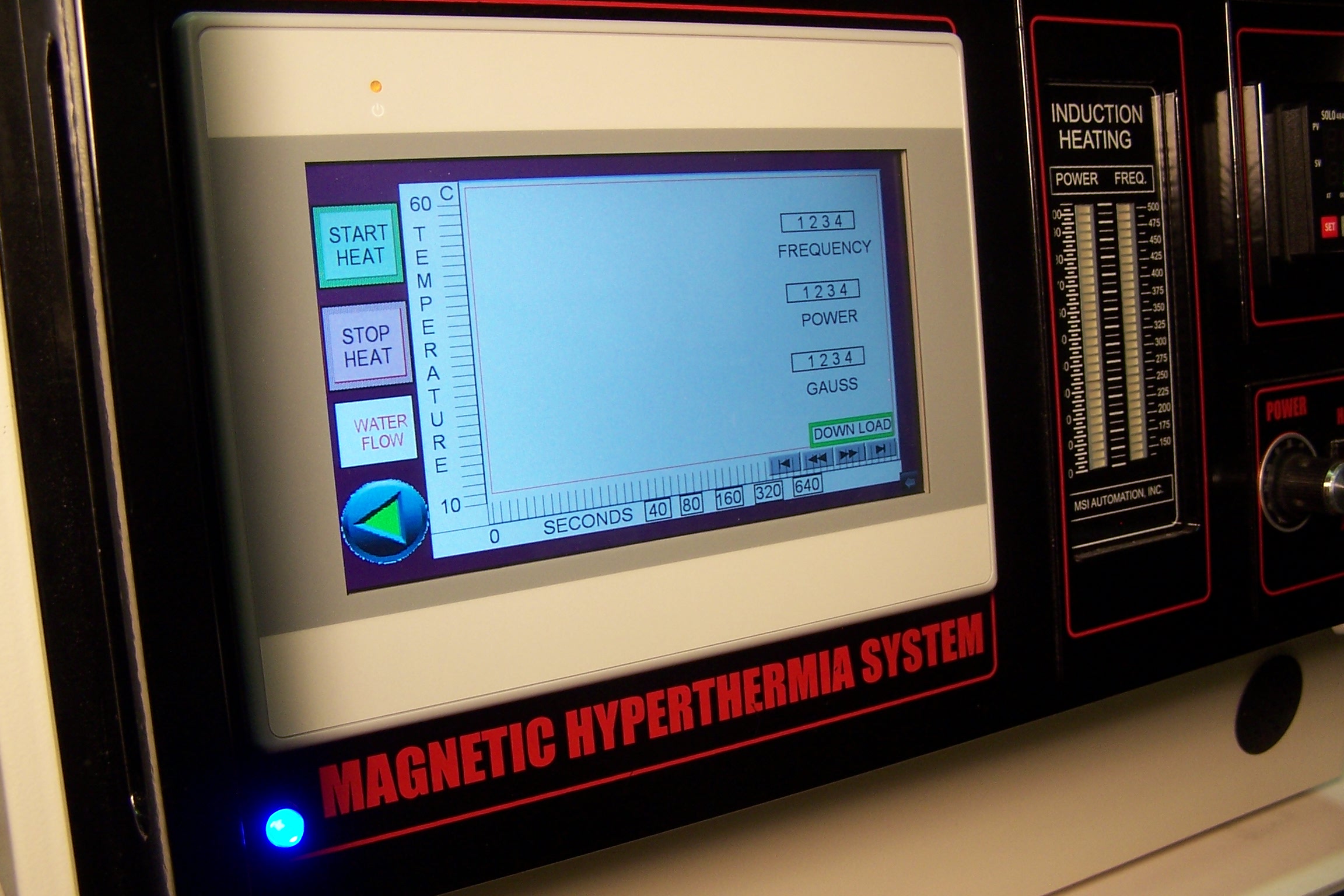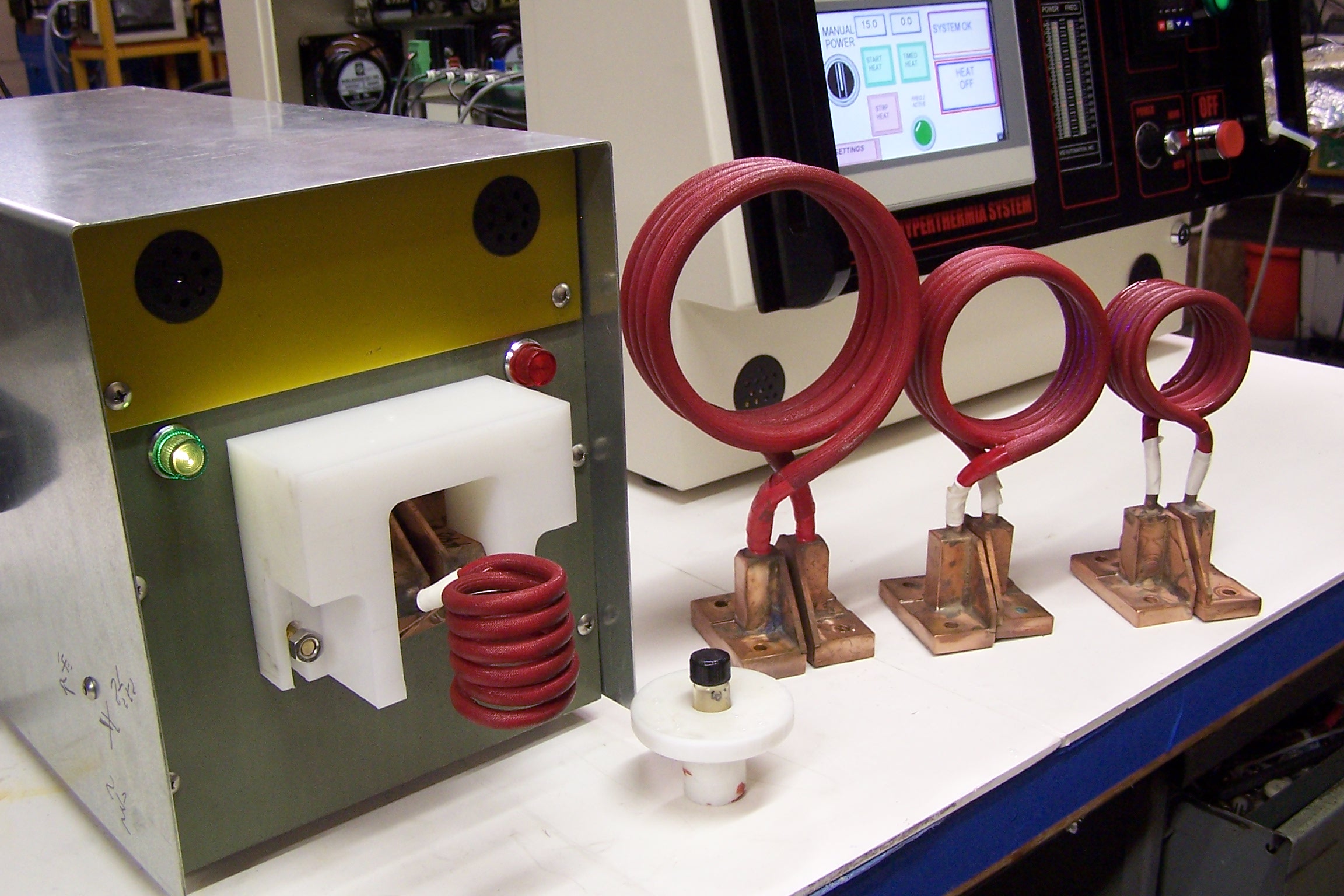 HEATING COILS: (ANY SIZE AND SHAPE UP TO 120 mm)

HEATING COIL COVER
PAPERS WRITTEN:
http://msiautomation.com/nano_paper.pdf
http://msiautomation.com/nano_paper2.pdf
MSI Automation | Designed and Manufactured in the USA